Discover more from Falling to Systems
"You do not rise to the level of your goals. You fall to the level of your systems." - James Clear. I write about those systems.
Why I'm a budgeter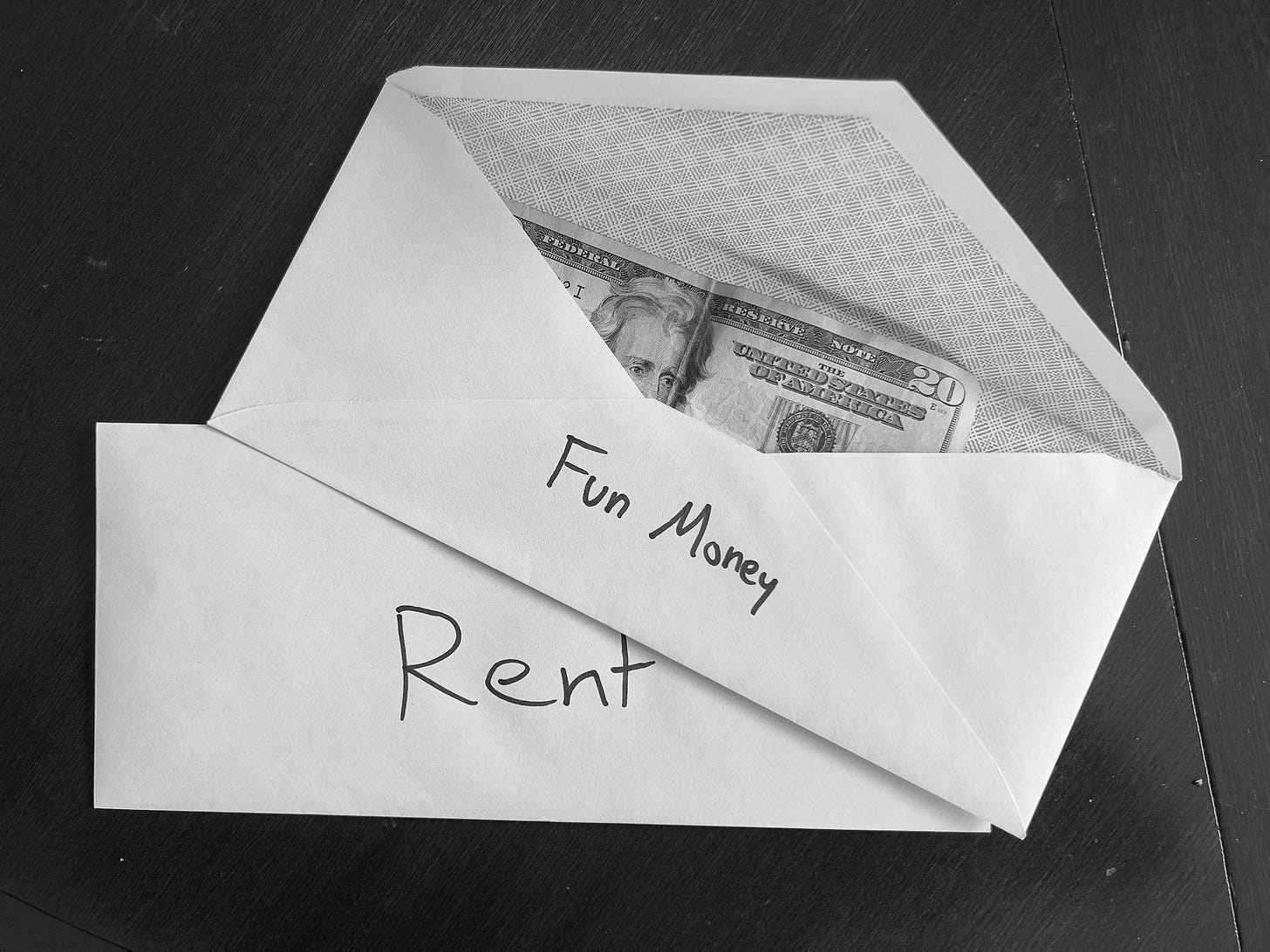 Back in my early twenties, I accidentally smashed the tail light of my dad's car while backing into a parking spot. When he heard the crunch from the passenger's seat, I immediately yelped, "don't worry! I'll pay to fix it!". In a rare moment of losing his temper, he yelled back "how!" We both knew I wasn't good for the money. From a financial perspective, my early adult years amounted to a period of trauma that left a lasting scar. I ended up destroying my credit just in time to live paycheck to paycheck for the first few years after college. I was no stranger to overdraft fees, I would ask people to hold off on cashing checks I wrote, and not being able to afford to go out with friends was isolating, shameful, and embarrassing.
Today by contrast, family and close friends view me as a personal finance nerd and from time to time will ask "You're buying what? I thought you were on a budget…" I'm rather open about valuing frugality, so when they see me spending a large sum of money, it can feel incongruous with their idea of how I live.
Like many young people in the early 2000's, I got into financial trouble after getting my first credit card in college. While I was old enough to enter into a contract with a bank, I was totally ill equipped to handle the responsibility. Within a few short years of getting my first 'student credit card', I had maxed out the modest credit limit and didn't really take the consequences of missing credit card payments seriously. I was a kid without adult supervision, and I think the credit card company counted on it. It wasn't long before collection notices started to arrive.
The mix of no job prospects and financial stress led to what I considered my biggest walk of shame ever: moving back to my dad's house after graduation. I got a job as a bartender in my hometown, which for the uninitiated, is extra rough since you end up serving all your old high school classmates, who didn't have to move home, but who were just in town to visit their families over the holidays.
It wasn't all bad though. Having a regular paycheck and living rent free allowed me to pay off the debt I had accumulated over the previous few years, and I was even able to scratch together a tiny amount of savings. I remember the rush of seeing a paycheck's worth of savings in my checking account, and offering to take my dad out for a nice lunch left me beaming with pride.
The crowning achievement of my time in parental siberia was being able to save enough money to take a five month backpacking trip through South East Asia with my best friend. It was the trip of a lifetime, but coming home amounted to my second act of financial struggle: I was broke (again) with no job prospects (again) beginning to overdraft (again) and asking to live with my dad for a little while (again).
During this second stint at home I returned to my bartending job and focused on building up enough savings to move out ASAP. As I went through the motions however, I started to become aware of the sharp lack of confidence I had developed about staying out of financial trouble once it was time to leave the nest for good. My financial life up to that point had oscillated between totally reckless spending and unsustainable asceticism. I had no experience living somewhere in the middle. I never talked about any of this with anyone though. I had appearances to keep up after all. To this day, I'm certain that my friends and girlfriend at the time would never guess that I was constantly worried and stressed about money.
I eventually moved out, got an entry level job in a profession that made use of my degree, and began living within my means. I finally had money to spend, but paradoxically, I found it hard to actually spend it. I'd find myself opting out of going to concerts with my friends for no particular reason. I'd get cheap haircuts, rarely buy new clothes, and buy malt liquor over nicer beer. I was practicing frugality, but there wasn't a clear reason as to why.
I finally figured out that my core issue was that I couldn't seem to spend money without feeling guilt. I constantly had the gnawing feeling that there was probably a better way to spend my dollars. Was it really ok for me to buy this pricey Arc'Teryx waterproof jacket? Will I be able to live with myself if I buy this year's iPhone when the iPhone I got last year is perfectly fine? If I could just figure out how to give myself permission to spend money, maybe even look forward to spending money, then I could establish a healthier relationship to money.
Looking into this question led me to read up on personal finance and in particular, budgeting. My brother had gifted me a copy of Suze Orman's "Young Fabulous and Broke" book for Christmas a few years earlier, and after dusting it off, I promptly read it cover to cover. That first book on personal finance turned out to be a delicious appetizer that would lead to a major deep dive on all things financial literacy. I was reading several articles a week and watching personal finance tv shows from Suze Orman and Dave Ramsey. Somewhere along the way, I came across the concept of envelope budgeting, and things just all sort of clicked and fell into place.
Envelope budgeting is an old school idea from an era long before credit cards. I believe its heyday was shortly after the Great Depression. Back then, people would cash their paychecks and immediately divide the pile of money into envelopes dedicated to specific purposes. There would be an envelope for rent, one for groceries, another for eating out, etc. If you overspent from one envelope, you'd have to pull dollars out of another envelope to cover the shortfall. The envelope system is simply brilliant for helping folks to live within their means. Having to pull money out of the dining out envelope to cover an unexpected flat tire forced people to recognize the tradeoffs that come with their spending choices.
This system has one fatal flaw however, and it's credit cards. Since spending from a credit card amounts to spending someone else's money, it's not coming from the  money coming into your checking account, and therefore can't be divvied up. This incompatibility rendered the envelope system obsolete once once credit cards became ubiquitous. Fast forward to today, and wouldn't you know it, there's a cottage industry of software out there focused on giving folks a digital version of the envelope system that's fully compatible with credit cards. These apps are thoroughly modern, being native to mobile with integrated connections to banks, automatic savings plans, and fancy visualizations that the envelope budgeters of the past could only dream of. While exploring envelope budgeting software, I came across the fine folks at You Need a Budget, or YNAB for short, and after reading their library of getting started guides, best practice articles, and solid documentation, I decided to give their app a try. I haven't looked back since.
There's a misconception that budgeting is all about "tightening your belt" and practicing austerity as an end unto itself. Having budgeted for several years now, I've come to believe that budgeting is really about figuring out what matters most, and prioritizing dollars to the things you actually want over spending on things that just feel good in the moment.
With a budget in place, I can create a plan to have a target amount of cash in hand by a certain date, and "fill the digital envelope" along the way each month. In this way, I can plan on spending $3,000 on Christmas gifts starting November 1st, and if I start saving the December before, filling the digital envelope amounts to a 'monthly bill' of $250 that I'm simply paying to myself. If calamity should strike and I need to unexpectedly spend some money, I can always pillage the digital Christmas envelope, and plan on spending less money over the holidays. Either way I now have options, and going into debt isn't one of them.
Rather than viewing my savings account as one monolithic balance, I now see it as the sum of all the digital envelopes that matter to me, many of them being filled every month in accordance with a schedule that ensures that I'll have money in place when I need it. When it's time to pay my fairly substantial auto insurance premium in six months, I don't sweat it since the money is already there, just waiting to be spent.
Looking back at it now, the guilt I felt around spending was a symptom of having lived a financial life that was fundamentally unsound and unstructured. Budgeting however, is the system I've found that allows me to be financially resilient and fully in control. Contrary to the common view that budgeting leads to restriction, I see it as a tool that opens doors to experiences and possibilities that were out of reach for so long. Sure, I may end up choosing to not spend money on something, but when that happens, it's because I'm choosing to put that money toward something I actually care about instead. I want that running jacket next month more than I want this Chipotle burrito today.
Having my financial life under control has led to a huge reduction in daily stress and a calm, zen-like tranquility when misfortune strikes. Most importantly however, I can confidently spend money, even on larger items, with the quiet confidence that comes from knowing that I have the right systems in place. Everything that's financially important is taken care of. The peace of mind that comes with being a budgeter is absolutely priceless.